Franklin and Friends is a Canadian CGI children's television series produced by Nelvana. It is the second adaptation of the classic characters from the Franklin the Turtle series of children's books written by Paulette Bourgeois and illustrated by Brenda Clark, the first of which was Franklin, which was also produced by Nelvana. The new series was announced by Nelvana on September 28, 2010,[1] and it debuted on Treehouse TV on March 4, 2011.[2] The theme song is a revamped version of the original series theme, "Hey It's Franklin". It premiered in the United States on Nickelodeon on February 13, 2012 and Nick Jr. on March 1, 2012. It also premiered in the Singapore on Mediacorp on February 15, 2012. the series airs in Finland on Yle TV2 (Franklin ja ystävät) and The series airs in Israel on Hop! (פרנקלין וחברים) and the series airs in China on CCTV-14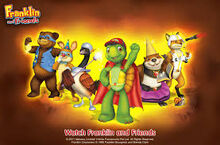 Ad blocker interference detected!
Wikia is a free-to-use site that makes money from advertising. We have a modified experience for viewers using ad blockers

Wikia is not accessible if you've made further modifications. Remove the custom ad blocker rule(s) and the page will load as expected.