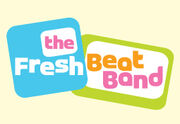 The Fresh Beat Band is a American Nick Jr. live-action children's television show.
Characters
Shout--(portrayed by Thomas Hobson) keyboardist
Kiki--(portrayed by Yvette Gonzalez-Nacer) guitarist/violinst
Twist--(portrayed by Jon Beavers) MC
Marina--(portrayed by Shayna Rose 2009 - 2011; Tara Perry 2011 - present) drummer
Notes
Shayna Rose portrayed Marina in seasons 1 and 2. In mid-June to July 2011, it was announced that Shayna Rose was leaving the show to get married and pursue other projects. Tara Perry took over the role of Marina.
Shayna Rose's last episode as Marina was "Jungle Jazz".
Perry's first episode as Marina was "Graduation Day".
Some episodes focus on one of the Fresh Beats and one on two of them (Kiki and Shout)
There is a TV movie called The Wizard of Song, a parody of 1939's The Wizard of Oz and the first TV movie to focus on a Fresh Beat.
Episodes that focus on the Fresh Beats
There are some episodes that focus on the Fresh Beats.
Shout
Loco Legs
Quack Shoes
Sing With Me (along with Kiki)
Rock to Sleep
Bubble Blast
Giant Pumpkin
Kiki
Let's Boogie
Sing With Me (along with Shout)
Smoothies to Go-Go
Kiki's Kickin' Chorus
Car Wash Dance
The Case of the Missing Violin
Twist
Band Together
Bounce In the House
Hocus Pocus
Rhyme Time
Campin' With the Stars
Fresh Beats In Toyland
Follow the Leader
Jungle Jazz
Veloci-Rap-Star
Marina
Stomp the House
Hippity Hop
Rock the Luau
Circus Mojo
Singin' In the Rain
Drum Party
Graduation Day
Rock Star
The Wizard of Song (TV movie)
Ad blocker interference detected!
Wikia is a free-to-use site that makes money from advertising. We have a modified experience for viewers using ad blockers

Wikia is not accessible if you've made further modifications. Remove the custom ad blocker rule(s) and the page will load as expected.